We pride ourselves in giving our clients the best services and support we can offer. We also respect our clients privacy and confidential information.
As a client of asiEGL's team of experienced consultants, developers, and managers, you can expected the following: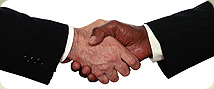 Interested in forming a strategic partnership?
If your company is interesed in becoming an asiEGL Global Alliance Partner, please contact our corporate headquarters at: 626 - 827 -2826 or email us at: partners@asiegl.com.


Amada America, Inc
System Integration between SAP, Siebel, and legacy systems.

CitiCorp Development Center
Data warehouse to monitor web-based home banking activities to support corporate strategic planning for a global on-line home banking business. Daily interface activity downloaded from 10 countries in 4 continents.

KCET-TV (PBS)
Rapid Application development of an automated Call Center application to support telemarketing, and pledge drive with RPG and Synon. Telephony support included intelligent dialing, online dynamic scripting, voice-data transfer, IVR and CTI.

Countrywide
Application development for a Rochade Enterprise Repository to scan through all databases and program source codes of loan applications to build a meta data warehouse.